Hamilton Beach Juicer Review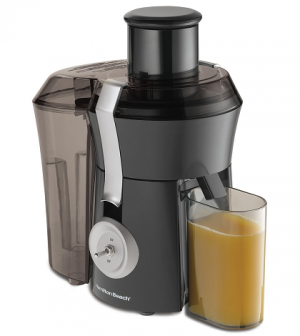 The Hamilton Beach Juicer
Hamilton Beach offers a wide range of appliances that are designed to be highly efficient and make cooking easier. They were initially famous for their toaster ovens, blenders, and mixers. However, some years back, they ventured into making the high quality Hamilton Beach Juicer. Not only do these juicers extract around 20 percent more juice than other brands, but they have been designed in a way that allows easy cleaning and assembly.
These juicers feature a wide-mouth design that makes it easier to juice larger vegetables and fruits. This saves a lot of time of consumers, which would otherwise be spent in chopping up the fruits and vegetables into smaller chunks.
In this article, we will review two different models of these juicers to help you choose the right one for yourself.

Hamilton Beach Big Mouth Juice Extractor 67601
General
This juicer weighs a mere 9.8 pounds and measures 13×9.2×16.2 inches. Because it is so light in weight, it is easy to move around and you would not have any problems handling it, including during assembly/disassembly. You can easily stow it away after use.
Featuring 800-watt motor, the juicer is able to quickly, and effectively extract juices. As a matter of fact, it is almost 24 percent more efficient than other appliances of the same class.
Key Facts
There are many design features that make the Hamilton Beach juicer among the most sought-after appliances, even though they do not fall into the premium range (typically less than $100), they still manage to pack a punch.
Here are a few key facts about the Hamilton Beach Juicer Extractor 67601:
• Large Feed Chute – The feed chute of the juicer measures 3-inches wide. This makes it easy to juice fruits larger than berries to be inserted into the juicer.
• Cutter – A stainless steel cutter results in greater efficiency and speed.
• Large Pulp Container – The pulp container is quite large, preventing the need to stop juicing to empty it.
• Easy to Assemble – The assembly and disassembly have been made easy with Hamilton's unique design.
• Simple Cleaning – Cleaning the appliance is extremely convenient. You can simply hold the basket strainer under running water and that will do the job. However, if you wish, you can take apart the juicer and place it in a dishwasher for a thorough cleaning. A special brush for cleaning comes with the juicer package.
The Hamilton Beach juicer normally comes with an instruction manual and a recipe book to help you get started with juicing.
Priced at around $50, the juicer offers you great value for money. The only drawback is that it does not come with a pitcher, and this may put off some people. Nonetheless, the position of the juice sprout is relatively high, and you can place any type of glass, jug, or other container to hold the juice.
Comfortable, compact size, versatility, and a beautiful design are things that make Hamilton Beach 67601 an excellent option. If you are looking for a cheaper and compact juicer for all your juicing needs, you should seriously think about this one.
Pros
– Powerful 800-watt motor
– Fast juice extraction with minimal reduction in nutrition of vegetables and fruits
– Dishwasher-friendly parts
– Compact size
– Stainless steel cutter speeds up the juicing process
– Extra-large pulp bin
– Comes with one-year warranty
Cons
– No pitcher included
Hamilton Beach Big Mouth Juice Extractor 67608
The Hamilton Beach Juice Extractor 67608 comes with almost all the features that you would want from a decent yet compact appliance. It has a superb design, easy operation, and offers excellent results.
Packing an 800-watt motor, the appliance measures 12.8×8.8×15.8 and weighs less than the 67601 model – 7.6 pounds. It comes with a large pulp-bin, which will make juicing your favorite fruits and vegetables quicker.
Key Facts
Thanks to the design of the Hamilton Beach juicer, the feeding tube of 67608 is also extra-large. This means that you will not have to waste time in chopping up the fruits and vegetables into smaller chunks.

Here is an overview of the features of this Hamilton 67608 juicer:
– It Requires Less Preparation – no need to chop up the fruits and vegetables into smaller pieces. The big feed tube makes Hamilton juicers truly convenient.
– It is Dishwasher Safe – All you have to do is disassemble the appliance and pop it in the dishwasher for quick cleaning. If you do not have access to a dishwasher, simply hold the disassembled parts under the tab and they will be as good as new!
– Excellent Design – The design of the Hamilton 67608 is quite pleasing to the eye. With the silver finish on the side, it even carries an aura of premium juicers.
– Pitcher – Contrary to the 67601 model, the Hamilton 67608 comes with a pitcher where you can collect the juice.
This juicer is priced slightly above the previous model that we discussed, and costs around $60, which is an excellent price tag keeping in mind the ease-of-use of the appliance.
Pros
– Powerful 800-watt motor
– Large feed tube
– Fast juice extraction with minimal reduction in nutrition of vegetables and fruits
– Dishwasher-friendly parts
– Compact size, lightest Hamilton model
– Extra-large pulp bin allows uninterrupted juicing
– Pitcher included
– Comes with one-year warranty
Cons
– Relatively noisier
Choosing the Right Hamilton Beach Juicer
Hamilton Beach offers numerous types of juicers, two of which were discussed in this review. It is important to understand that there is no universal juicer that is suitable for processing every type of vegetable or fruit. When choosing a juicer, you need to be clear about what your requirements are, how much juice you would need to prepare each day, and whether or not portability is an important factor for you.
The good thing about the Hamilton Beach juicer is that it is light in weight, affordable, and offers a wide range of features that can make your juicing experience convenient and enjoyable.
Get the latest news, reviews and features directly into your inbox.