Ninja Juicer Mega Kitchen System Review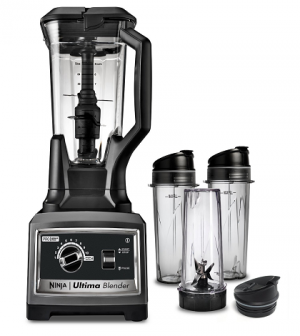 The Ninja Kitchen system is marketed as a ninja juicer, but it is more like a powerful blender. This distinction does make a difference for hardcore juicers – juicers remove the water content and nutrients from the fruits and vegetables, leaving the pulp behind. The Ninja juicer, however, blends the pulp into the juice, keeping the fiber content in the drink. We'll leave it up to you to decide whether fiber in your juicing is right for you, but you do need to know that you will have all of it with the Ninja. Now, on to the review…
What's In the Box
The Ninja system comes with many accessories, which is always a good thing. Here's what you get:
• 1500 watt Ninja base
• 72 ounce blender jar, blade, and lid
• 64 ounce food processer bowl, blade, dough hook, and lid
• 24 ounce prep bowl, blade, and spindle
• 3 serving cups, lids, and 1 extraction blade
• 'Quick Start guide
• Recipe idea guide
As you can see, the is designed to handle many food preparation jobs, but here, we will only be discussing the juicer attributes, even though those do carry over into other areas.
Ninja Juicer Pros
There are quite a few pros with the Ninja Mega Kitchen system  that are worth considering.
• Power – This system is 1500 watts, which means it has plenty of power to really grind the fruits and veggies. This results in a very fine pulp, which is an added bonus if texture is a major concern.
• Size – The 72-ounce blender jar provides plenty of space to pack in all those ingredients when you want to make enough juice for multiple servings.
• Speed – The system has a multi-blade unit that allows it to liquefy the ingredients very quickly. The faster speed also means that the juices don't heat up during the process.
• Single Serve Option – This is a great feature that allows you to juice just enough for individual servings if you're the only one drinking it. This also saves on cleanup time, as a single cup and lid are much easier to clean than the entire unit.
• Suction Cups – If you've ever had a juicer "walk" across the counter while using it, you already know this is a great addition – you won't have to stand and babysit the entire time.
• Sharp Blades – The blades on this unit are incredibly sharp, which is awesome for juicing.
• Cleaning – Cleanup is easy as the unit disassembles, and is dishwasher safe. A word of warning – the blades are SUPER sharp, which means they will cut you if you aren't careful.
Cons
We all know there is not a single perfect product out there, so a fair review always includes the issues.
• Size – Yes, the size of this thing is both a pro and a con. While great for making larger batches, it also takes up a ton of cabinet space, which should be expected. If you have limited real estate in your kitchen, you might find this a bit too large.
• Cold Prep Only – The Ninja can't handle hot foods, and it doesn't heat up the juices either (if you are into warm juices). Pouring hot liquids into the blender bar can cause serious damage, and even ruin the seals or lead to cracking.
• Juicing – This is not a "true" juicer in that the pulp is not separated from the juice. For some, this might be an issue, and for others, they may love the added fiber benefits.
• Single Serve – When using the single serve feature, you will need to keep pushing the button, rather than just pushing it and walking away.
• Alignment Matters – You have to make sure the arrows on the lids and jars are perfectly lined up. If not, the Ninja will not start. This is a great feature for safety, but can be a pain early in the morning!
Overall
The Ninja Mega Kitchen system is just that – a system. While it is designed to do a number of helpful things in the kitchen, it works amazingly well as a juicer if you aren't opposed to the pulp. I know I keep harping on this, but it is majorly important to some people, and I want to make sure everyone knows exactly what they're getting. The juices are essentially smoothies, in all honesty, but they are not as thick as a traditional blender would make them. Just make sure to hit the button a few more times, and it will make for an even smoother drink. If you do this, you won't have to worry about chewing your smoothie, or dealing with a ton of chunkiness. You also have the option of straining the mixture if you want to remove all of the pulp.
Price Considerations
The Ninja juicer is not cheap by any standards, but you have to consider that this is a multi-tool system. Also, if you compare it to the other juicer options out there, such as the Vitamix, this system is considerably cheaper. It all boils down to what you are looking for, and whether the other capabilities are of any benefit to you. If you are only interested in the juicing option, you might want to consider a smaller, more affordable unit.
Bottom Line
The bottom line on the Ninja juicer is that it will never be a true juicer. After all, it is a blender. That said, if you want to have the added benefit of fiber in your juices, you will love using this. The added benefit of the single cup also makes this a great option for those who want to cut down on cleaning and ingredients.
If fiber just isn't your thing due to preferences or health issues, again, you can strain or opt for a different product. The smoothies are amazingly smooth for a blender, which is certainly a bonus, however, if you only want a true, absolutely no pulp juicer, you will not like the Ninja.
Get the latest news, reviews and features directly into your inbox.