31 For 30 Juice Recipes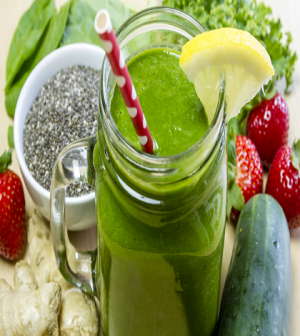 31 for 30 Juicing Recipes
 Juice Challenge – Try Juicing Once a Day for a Month
Fresh fruits and vegetables hold amazing power to boost our health and vitality.
"Juice With Us" and discover the power of juicing and make it a part of your daily life.
1. Beginners Green Juice
If you haven't started juicing here's a tasty recipe to begin. Get your juice on!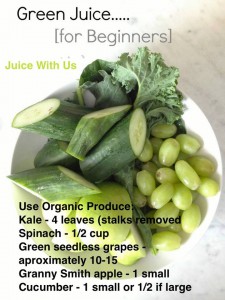 2. Spinach, Kale
 Spinach, Kale, 1/2 lemon, 1/4 inch fresh Ginger, 2 green apples, a bunch of  cilantro, 2 carrots
3. Mean Green Juice
1 cucumber
4 celery stalks
1 apple
6 leaves kale
1/2 lemon
1 inch ginger
4. Carrot-Apple Ginger Juice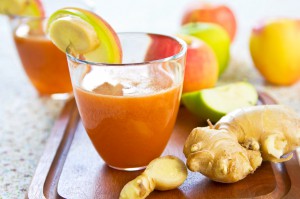 Rich in one of fall's favorite colors, orange, this refreshing juice provides anti oxidants, electrolytes and half your daily requirement of Biotin. Biotin is an important B vitamin (B7), also known as Vitamin H for its role in promoting hair growth. Biotin is also needed for healthy metabolism and plays a role in regulating blood sugar levels.
3 organic carrots
2 organic apples
1 small piece of ginger (about 1 inch)
 5. Sunny D Juice

2 mangoes
1 orange
1 yellow pepper (capsicum)
2-inch piece of ginger
Directions:
1.) Peel mangoes and orange and wash pepper.
2.) Slice off top of pepper and remove seeds.
3.) Cut pepper in half to fit into juicer chute.
4.) Slice ginger.
5.) Juice
Substitutions:
Mango – papaya
Orange – tangerine, clementine, grapefruit
Yellow Pepper (capsicum) – orange pepper, summer squash
Ginger – lemon
 6. Morning Green Glory Juice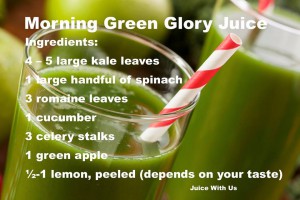 *TIP: I find that you get more out of your leafy greens when you push them through with celery or cucumber. I add the kale leaves, and push it through with the cucumber. Next, the spinach leaves pushed through with the celery. The romaine goes in next easily. Then the apple, followed by the lemon and voila! You now have your energy for the day.
*TIP: Depending on which greens look best to me at the store, I sometimes switch up the leafy greens and use collard greens and/or Swiss chard.
 7. Crispy, Clean Green Juice
 This light and refreshing green juice is a great way to make you liver happy.  Cabbage contains sulfur based compounds and other phytonutrients that can promote natural detoxification in the liver.  Ginger has phytonutrients that can reduce nausea, improve digestion and boost immunity.  Eating soluble fiber rich pears can help lower risk for certain types of cancers.
1 large wedge green cabbage
2 small pears
1 bunch romaine leaves
1" ginger root
8. Sun Kissed Juice
Get glowing skin with this beautiful juice rich in carotenoids.  A small study from the University of St. Andrews in Scotland showed the groups that consumed just 3 extra servings of carotenoid containing fruits and vegetables showed a small change in their skin tones and coloration that was enough to be perceived as more attractive to others in just 6 weeks.

1 beet (beetroot)
2 carrots
2 oranges (1 if a large orange)
2-4 swiss chard leaves and stems
1" piece of ginger (optional)

Peel the oranges, and chop the ingredients and juice
Substitutions:
Beet – sweet potato, winter squash, red peppers, red cabbage
Carrot – sweet potato, winter squash, orange
Orange – lemon, mandarin, pink grapefruit
Chard – kale, spinach, lettuce
 9. Peach Pie Juice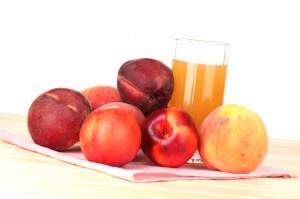 Sometimes you just don't want kale in your juice.  When you are looking for something sweet, something with a bit of creaminess, or just a pretty juice.
It is packed full of vitamins A & E and topped with cholesterol-lowering cinnamon.
Ingredients:
• 3 Large Sweet Potatoes (peeled)
• 4 Ripe Peaches (pitted)
• 2 Golden Delicious Apples (cored)
• A dash of Cinnamon
Directions:
1. Juice
2. Pour into a glass
3. Sprinkle cinnamon on top.
4. Enter peach pie bliss.
Makes 2–3 16 oz. servings.
10. Green Juice (Makes 12 oz.)
1/2 bunch of curly kale
1/2 head of lettuce (Romaine,
green, red- whatever works)
1 lime, peeled or 1/2 lemon
peeled
2 apples, washed (golden
delicious, Fuji- anything
sweet)
1 thumb-tip size of fresh ginger
11. Light Green Juice
1/2 field cucumber
1/2 head romaine lettuce
5-6 stalks of celery, including
leaves
1 lime, peeled
1 golden delicious apple
pinch of sea salt
12. Smooth Green Juice (Makes 16 to 20oz.)
3 cups spinach
1 large organic cucumber
1/4 bunch of flat leaf parsley
1 large lime or 1.5 smaller limes, peeled
1 golden delicious or similar apple
1 thumb-tip size ginger
13. Tomato-Veggie Juice
Makes 16 ounces
2 ripe tomatoes
2 garlic cloves
1 handful fresh spinach
1 large organic carrot
1/4 Vidalia onion
1 large rib celery
1/2 lemon
Add sea salt and pepper to taste
 14. Apple, Celery, Kiwi Juice with Ginger
Sweet, fruity with gingery heat.
1 large celery stalk
1½ large Granny Smith apples, cored
1 kiwifruit, peeled and halved
⅓ cup loosely packed parsley leaves
1 Tbs. minced fresh ginger
 ½ of a lime
15. Kool Kiwi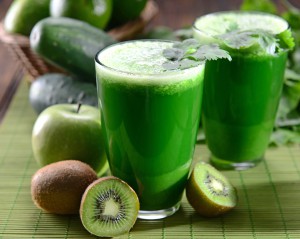 Serving Size: 16 – 18 oz.
Refreshing, sweet and slightly tangy.  Another bonus is a kiwi contains a high level of vitamin C, almost twice as much as an orange. They've also been known to be good for digestion, respiratory issues, cleansing and energizing.

2 kiwis
1 cucumber
2 celery stalks
1 apple
1/2 lemon, peeled
Directions:
Peel kiwis and lemon (if not organic).
Wash all ingredients well and juice.
16. Electrolyte Fusion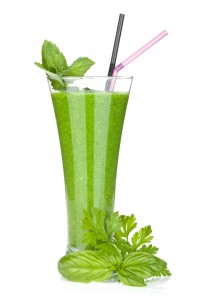 I drink this juice often, and with good reason. The base is cucumber, which is a nutritional powerhouse. It's loaded with potassium, magnesium, vitamin C and folate while being very low in calories. It is a perfect choice for before or after exercise since it's loaded with electrolytes. After adding cucumber, I throw in celery, apple, spinach and mint – creating a detoxifying fusion.
1 medium cucumber
1 celery stalk
1 apple
1 handful spinach (or other greens)
2-3 sprigs mint
17. Fat Flush Juice
This juice is loaded with fat burning fruits and vegetables that will get your metabolism revving!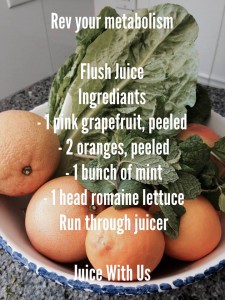 This juice is nice and refreshingly tart, a great way to start your day!
The high vitamin C content also acts as a good anti-oxidant that protects cells from damages by free radicals.  By adding mint to your diet, you are increasing the amount of fat that is being consumed and put to use, rather than being stored and contributing to your weight gain!
Lettuce juice is refreshing, thirst quenching and help rehydrates our cells and releasing toxins and harmful fats from our congested cells.
 18. Kale, Grapefruit, Apple, Lime
Kale – antioxidant, anti-cancer
Grapefruit – helps strengthen and maintain the elasticity of arteries, immunity boost, prevents diabetes, and fat-burning enzyme
Apple – protective against cell and tissue damage, powerful antioxidant, promotes skin rejuvenation
Lime – weight loss, skin care, regulates body's absorption of sugar
19. Deep Purple Machine
Purple Kale (1/2 bunch), 1 celery stalk, 1 apple, ¼ Lemon, 1 stock broccoli, and 2 carrots
20.  Rainbow Delight
Red Leaf Lettuce, 1 tomato, purple kale, 2 leaves Lacinato kale, 1 leaf rainbow chard, 1 granny smith apple
21.Citrus Blast
Rainbow Chard, 2 carrots, 1 stock broccoli, 1 peeled orange, ½ lemon, red leaf lettuce.
22.Cold Buster
2 oranges peeled, ½ lemon, few leaves kale, 1 celery stock, ½ cucumber, 1 broccoli stock
23.  Kale, Spinach, Fuji Infusion
A few leaves of kale, spinach, ½ lemon, fuji apple, 3 carrots
24.The Sweet Angel
¼ Purple Cabbage, 3 stocks celery, 1 fugi apple, and kale.
25.Go Green Go
Kale, 1 piece fennel, 2 celery stocks, ½ cucumber, apple, orange
 26.Orange Twist
Lacento Kale, 1 tomato, ¼ purple cabbage, knuckle ginger, 3 carrots, 2 small oranges
27.Orange Julius
1 large orange, spinach, 3 carrots, purple sweet potato, 1 tomato
28.  Hide The Beet
1 beet, 3 carrots, 1 stalk broccoli, 1 red apple, 1 small orange, handful kale (taste great)
29. Sweet Paradise
Handful kale, ½ Red Bell Pepper, 3 carrots, ½ Sweet Potato, 1 apple
30. Pear-Ific Juice
2 pears
3 kales leafs
3 stalks of celery
1 cucumber
½-1 lemon
31.  Green Goddess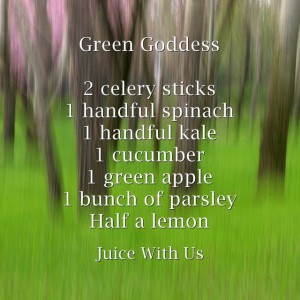 Get the latest news, reviews and features directly into your inbox.