Cuisinart Juicer Review : Cuisinart Juice Extractor CJE-1000C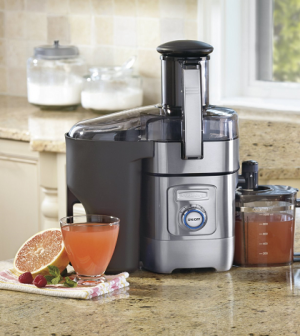 The Cuisinart juicer CJE-1000C Juice Extractor is a centrifugal juicer, which means that it juices by grinding and spinning the produce. As the fruits and vegetables spin, the juice is forced out of the pulp and into a separate container. The cuisinart juicer is one of the most popular types available, and they are generally less costly than their masticating counterparts are, which makes them a great choice for those looking for an affordable juicer.
Features
This juicer has plenty of features that make it a worthwhile option:
• 1,000 watt motor
• 5 speed options
• 3 inch chute
• Filter disk to reduce foam
• Adjustable, anti-drip flow spout
• Dishwasher safe removable parts
• Stainless steel and die-cast housing
• Quiet
• Blue LED Light
Accessories
• 1 quart pitcher for juice
• 2 quart pitcher for pulp
• Cleaning brush
• Recipe book
This juicer comes with everything you need to get started juicing right out of the box, and there is plenty to like about it.
Pros
• Power – This juicer has plenty of power to help it power through your favorite fruits and vegetables. It has five different speeds to choose from, with the lowest setting working best with softer produce and green leaves. The highest speed handles carrots, pineapples, apples, and other hard produce quite well.
• Noise – Most centrifugal juicers are quite loud, but this one actually lives up to its claims of quiet operation. That makes it a great option for those who like to juice early in the morning or late at night – you won't have to worry about waking everyone in the house up with your juicing.
• Capacity – The one quart juice pitcher and two quart pulp container both provide ample space for those who make smaller batches of juice.
• Prep Time – The large, three inch feed tube helps minimize chopping and cutting, but you will need to cut larger produce into smaller chunks to prevent them from getting stuck.
• Safety – The juicer includes a push button, locking lid, which increases safety.
• Adjustable Tap – There is an adjustable tap that allows you to control the flow of juice. You can even shut the spout completely, allowing for emptying the pitcher if it gets full before you're done juicing.
Cons
We all know it's nearly impossible to find a product that is absolutely perfect, so there are a few cons that need to be a part of this Cuisinart juicer review.
• Yield – The juice yield on this juicer is low compared to other juicers out there. While centrifuge juicers typically don't produce the same amount of juice as a masticator, this one was considerably less productive than many other similar juicers I've tried as well.
• Very Wet Pulp – The pulp container actually contains quite a bit of juice once the process is complete. In fact, there is enough juice left in the pulp that it is possible to squish it between your fingers and get more out of it. This means there is a lot of waste with this juicer.
• Pulp Spray – As the juicer spins, it sprays the pulp all over the inside of the machine. These parts do lift out, so that makes cleaning easier, but it can leave a mess behind if you aren't careful.
• Heated Juice – As with all centrifugal juicers, this one does noticeably heat the juices during the extraction process. This can easily be remedied with a few ice cubes in the container.
Ease of Use for the Cuisinart Juicer
This juicer is fairly easy to set up and use. The larger opening allows it to handle larger chunks of produce, which speeds up prep time considerably. The juicing pieces do lift out of the machine for easier cleanup, and the fact that most of the parts are dish washer safe is a bonus. However, the spinning process results in pulp ending up throughout the machine. It manages to get beneath the blade and under the lip of the machine, which can be a bit difficult to get out. As long as you make sure to clean it immediately after making the juice, you should have no problems getting everything cleaned properly.
Overall
If you are looking for an affordable juicer, this Cuisinart juicer works for that. It does have some issues with leaving very soggy pulp. You can try running it back through the machine, but it isn't worth the additional hassle. You can also purchase cheesecloth and squeeze the pulp out by hand to try to get some of what is left behind.
The stainless steel and die-cast design does look nice, and provides easier cleanup. It is quieter than many of the other similar juicers available, but it does still have a tendency to "walk" across the counter, so you won't want to leave it unattended. Overall, this juicer provides juice, just not on the same level as some of the other models available.
Price Considerations
In terms of juicer pricing, this one is a great price. That makes it perfect for those who are just starting out with juicing, as it will allow you to decide if you really want to stick with the juicing lifestyle. It is important to remember that you do get what you pay for. This juicer is cheaper than many of the other options available, but you will also get less yield from your produce. However, if you want a budget-friendly way to try out juicing, this is a good beginner juicer.
Bottom Line
For the price, this cuisinart juicer does what you want it to do – juice your fruits and vegetables. You will have to keep in mind that this is a centrifugal unit, which means that the heat will affect the nutrient content of the juices. If you are looking for a juicer that will give you optimal juice and maximum nutrition content, you may want to consider skipping over this one. While masticating juicers are more expensive, it might be worth it depending on what you are looking for in a juicer.
Get the latest news, reviews and features directly into your inbox.