Best Juicer on the Market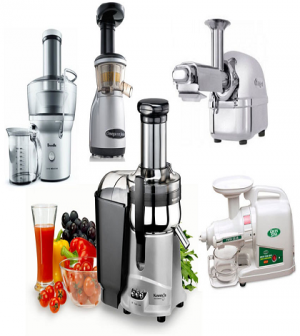 Best Juicer on the Market
If you've decided to embrace the juicing lifestyle, or you just need to replace your old juicer, you probably want to make sure you choose the best juicer on the market for your purchase. While the best juicer for you might not be the right one for someone else, several juicers available get consistently high ratings from customers and reviewers. The following are some of the top rated juicers that are currently available, in no particular order.
Breville Juice Fountain Plus JE98XL
This Breville is a midrange option in centrifugal juicers. It has all the basics that make a juicer worthwhile, including an 850 watt motor with two speeds. The lowest setting is 6,500 rpm, which is great for juicing soft fruits and vegetables. The second speed is 12,000 rpm, which allows for better juicing of tougher, harder to juice vegetables. It also has a wide chute for feeding your ingredients, which makes preparation a bit easier. Another important factor on this juicer is that it has an easy to clean design that makes the entire juicing process easier to deal with.
The juicer is made from high quality polymers and stainless steel to protect against corrosion and staining. It also comes with a one liter jug that is designed to separate the juice from the froth as it pours, and the larger size of the pulp container allows for larger batches. Overall, this is a great juicer for those who want something affordable that will get the job done.
Omega NC800 HDS 5th Generation Nutrition Center
Another  best juicer on the market is available from Omega, and it is a masticating juicer. It has a larger feed chute to accommodate larger chunks of fruits and vegetables, which helps to cut down on prep time. It also incorporates an adjusting end cap that allows users to have better control over the pulp, which allows for maximum juice extraction from both harder and softer produce choices to ensure the highest yield possible.
This Omega model also offers a range of other benefits, as it is designed for multipurpose use. While it does an excellent job with juicing, it also comes with six additional attachments that allow for making butters, extruding pasta, grinding, and more. If you are looking for an appliance that can do double or triple duty, this is a great choice that won't make you sacrifice quality juicing for convenience.
Breville 800JEXL Juice Fountain Elite: Best Juicer on the Market
There is a reason that Breville is well-known among juicers, and that is because of their quality. This model includes a die cast body, stainless steel filter, and a cutting blade that is titanium reinforced for added durability and sharpness. It has a two speed, 1,000-watt motor that offers both 6,500 rpm and 13,000 rpm to handle a wide variety of produce.
This model also includes a wide feeding chute to cut prep time, and a safety lock that makes sure there aren't any unnecessary accidents. It also features dishwasher safe parts that make cleanup easier than ever. If you want a juicer that is built to last, this should be at the top of your list.
Breville BJE200XL Compact Juice Fountain
Another  best juicer on the market from Breville, this unit is a great option for those who are just getting into the juicing lifestyle. This is a centrifugal juicer that has a 700-watt motor. It provides speeds of 14,000 rpm, which means it won't have any problem with any of the fruits and vegetables you want to throw into it.
This unit also has a wide feeding chute to limit the amount of cutting and chopping needed, and the blade is titanium reinforced to provide long lasting sharpness. This is also one of the lower priced juicers in the top choices, yet it doesn't disappoint in terms of durability and performance. It is also easy to clean, which is always a major plus.
Kuvings NS-940 Silent Juicer
This masticating juicer features a 240-watt motor that provides 80 rpm speeds. The goal of this juicer is to provide a quieter experience, without sacrificing too much performance. The slower speeds are also designed to ensure the highest nutrition content in the juice, while maximizing juice output.
While this juicer has lower speeds than some of the other options on this list, it still provides excellent extraction, and it's easy to clean. The quiet running is also a bonus for those who want to juice without waking up the entire household for those early morning juices.
Omega J8006 Nutrition Center
Omega makes it onto the list of best juicers on the market again with this dual stage, masticating model. This juicer produces 80 rpm speeds, which means it's slow, but also very quiet. It has a two-stage process that crushes the fruits and vegetables, then squeezes the juices out. By incorporating both steps, the juice yield is high compared to some of the other options.
The slower speeds of this unit help to minimize nutrient loss and oxidization, which allows the juices to be stored for up to three days when stored properly. In addition to handling all types of juicing needs, it also comes with attachments that allow you to mince garlic, grind coffee, and even make nut butters and pastas. If you are looking for a multi-use appliance that still gives excellent juicing performance, this Omega is a great option.
Centrifugal vs. Masticating Juicers
When it comes to choosing a juicer, it helps to understand the difference between centrifugal and masticating options. The centrifugal juicers basically spin the produce at high speeds, while grinding the pulp at the same time to extract the juices. Masticating models grind and chew the produce, then squeeze them to get the juices out more efficiently. This type is generally considered the better option due to efficiency.
These are some of the best juicers on the market, but there are also many other great options available. No matter which juicer you decide to go with, make sure to do your research ahead of time so you get the best option for your money and remember the best juicer on the market is always going to be the one you use.
Source:
Get the latest news, reviews and features directly into your inbox.