Breville Juicers: Juice Fountain Plus Review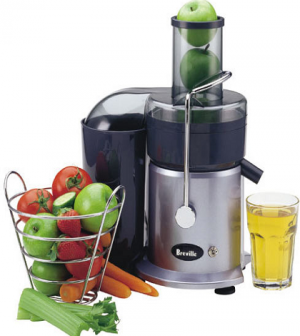 Breville JE98XL Juice Fountain Plus Review
Breville juicers are definitely quality juicers. Many find them a little expensive when they are just starting out with juicing, but the reality is for the serious juicer Breville has great juicers at reasonable prices. After all there are many juicers that have a higher price tag then Breville. In this Breville juicer review, you will find out more about the JE98XL Juice Fountain Plus, which is priced as a great entry-level juicer. The Juice Fountain Plus is a centrifugal juicer, which means that the juice is extracted by grinding and spinning the fruits and vegetables.
Features
• 850 watt, two-speed motor
• Three-inch feeding chute
• Safety lock
• Stainless steel cutting disc
• Overload protection
What's Included?
• 34-ounce juice container with froth separator
• Large pulp container
• Plunger
• Cleaning brush
How Breville Juicers Look
When you first open the box, this juicer looks like something you'd see a pro juicer using. The high grade polymer body looks nice, and works with nearly any modern decor. You should be aware, however, that this juicer is a bit on the large side. Once assembled, it measures approximately 16 inches by 9 inches, so you will need quite a bit of counter space available for setup and storage.
Pros
When it comes to Breville juicers, there are some things that it absolutely has to do well in order to justify the cost – obviously it needs to juice, but there are other factors that go into the decision as well. Here are some of the pros that are worth mentioning in this Breville juicer review:
• Power – This juicer has two speeds, with low providing 6,500 rpm for softer veggies and fruits, and high providing 12,000 rpm for those tougher produce options. Both speeds produce good results, and handle pretty much whatever you throw at them.
• Speed – The speed of juicing is great with this Breville, with most juices being completed in around one or two minutes. The three inch feeder also makes preparation faster, as you don't have to spend as much time cutting the produce into small pieces to make them fit.
• Juice Output – The hallmark of a great juicer is the overall dryness of the pulp at the end of the process. While this is a centrifugal juicer, which means it won't produce the same dryness as the higher-priced masticating juicers, it does an excellent job. The pulp is fairly dry after just one pass through, on both the high and low speeds, which means you won't have to waste time sending it back through to minimize waste as is required with other centrifugal juicers
• Stability – The bottom of the juicer features suction cups, which make sure it stays put during the juicing process. The powerful motor does produce quite a bit of vibration, but the machine does not walk across the counter during use.
• Ease of Use – Overall, this juicer is easy to use. The larger feeding chute makes prep time faster, and the entire unit is easy to assemble and disassemble for cleanup. While it is a manual feeder, the produce goes in easily, and doesn't require large amounts of effort to push it into the cutting disc.
• Cleanup – Cleaning this machine is fairly easy, even with the splatter that occurs inside during juicing. Most of the removable components are dishwasher safe, and the included cleaning brush does a good job on the mesh filter. If you follow the recommendations in the instructions and place a plastic grocery bag inside the pulp container, cleanup is even faster and easier.
• Overload Protection – The overload protection on this juicer is a great design feature – especially for those who tend to overfill the chute. This protects the unit from overheating, which helps to preserve its overall lifetime.
Cons
No Breville juicers review is complete without noting the areas in which there could be some improvement. While there aren't many with this model, there are a few things you should be aware of:
• Noise – While not quite as noisy as some of the others out there, this juicer is fairly noisy – especially when on the high setting. If you are an early morning juicer, you might have some unhappy sleepers.
• Requires Peeling – If you juice apples and other thick-skinned fruits and veggies, you will need to peel them first. If you don't, the skin clogs up the blade very quickly.
• Splatter – As you are juicing, you will need to make sure you keep the plunger in the feeding chute as much as possible. If you don't, this juicer will splatter, and even throw small chunks out the top. As it juices quickly, however, most will not find this to be that much of an issue.

• Ginger – If you frequently use ginger, this Breville did not seem to handle it very well. There was very little juice output, even after running it through a second time.

• Size – Breville juicers are on the large side, so you will need plenty of counter space for using and storage. It also has seven pieces that will require cleaning after use, so it will take up quite a bit of sink space as well.

• Occasional Leaks – If you put large pieces of juicy fruits in this juicer there is a bit of leakage around the top edge. This doesn't happen often, but it is something you should be aware of to protect your countertop.
Overall
After completing our Breville juicer review, the overall result is that this is a good juicer for the price. It handles a variety of vegetables and fruits, and the pulp is drier than what some of the other similar juicers produce. It is a centrifugal juicer, so it will heat the produce up a bit during the juicing process. This does result in some loss of nutrients and enzymes, but the overall speed at which it juices seems to minimize the overall heating.
If you are looking for a good entry level juicer that gets the job done, the Breville JE98XL Juice Fountain Plus is a good option. It juices well, is easy to use, and is available at a considerably lower price than some of the other options available.
Get the latest news, reviews and features directly into your inbox.