The Green Star Juicer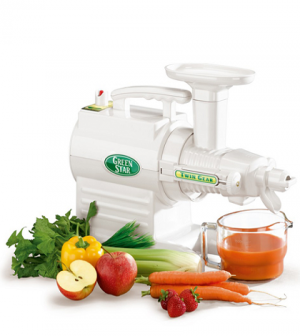 The Green Star Juicer
When choosing a juicer, you often have to consider what is most important to you and then make concessions to get the features you want the most. This is the case with the Green Star juicer lines. We will discuss this momentarily as we review this option. Whether you already have a juicer and you are looking to replace it or you are new to juicing altogether, you do need to know everything about a model and manufacturer before you make a decision.
Twin Gear Technology
The first thing you need to know about the Green Star juicers is that they are twin gear or triturating. This means they use three methods in order to get all of the juice out of the fruits or vegetables, including rubbing, crushing, and pressing. The two gears of this type of juicer rotate inward in order to crush the food items so that the juicer can then extract the most from it.
This is also a low-speed juicer coming it at around 80-160 RPM. Because it is low speed, this keeps the juices from oxidizing and also saves energy at the same time.
The Pros
There are many advantages to choosing a Green Star juicer, and likely you will find them very positive reasons to make this purchase. Of course, there are negatives too, but we will get to those momentarily.
• Quick Preparation – With this juicer, you never need to chop produce before feeding it. Instead, you can place whole items right into the feed chute which saves time.
• Easy to Clean – You will only need to take a couple of minutes to get the juicer cleaned up and stored away.
• Maximum Yield – These juicers use the three juicing method in order to extract as much of the juice as possible from fruits or vegetables. This means drier pulp too.
• Saves Money – Along the same lines, since the pulp is very dry, you are getting everything possible out of the fruits and vegetables so that you are not wasting money.
Some of the Green Star models are even optimized for leafy greens. Then, you can purchase knobs to make sure they are optimized for other items too.

The Cons
There is one very big con that you need to consider before making this purchase. Green Star juicers do use the two gear method, and that means you are going to have to put some pressure on your fruits and vegetables to feed them. This can be especially difficult for people with arthritis or other hand and joint problems.
Some of the Green Star juicers also create a green broth, which may seem distasteful to some people. However, this isn't necessarily a problem. The Green Star juicer is also considered by some a more quality type juicer. Really this is personal preference, but the price tag between $450 – $550 indicates it's a top of the line juicer.
Now that you know the pros and cons of Green Star juicers, you will be able to decide if one of these models will be right for your next purchase, whether you are replacing an old model or getting started with juicing for the very first time.
Get the latest news, reviews and features directly into your inbox.