Pineapple Turmeric and Chia Seed Cleansing Smoothie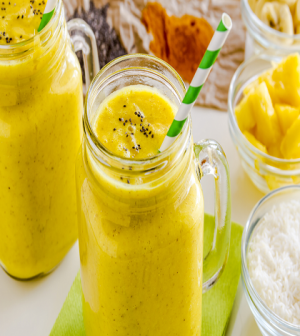 This smoothie recipe is just to good to not post.  It comes from our friends at Young and Raw and is fantastic!  Give this recipe a try.  It has some wonderful ingredients and is super cleansing.  For the full article click here.
Turmeric is an incredible gift from nature. With its many uses, detox, lowering inflammation and supporting a healthy estrogen balance in the body.
Combine the power of turmeric with cleansing chia seeds that help to pull toxins from the system and flush out the digestive tract, you've got an incredible formula.
Here's a delicious way to ingest these power foods and reap the benefits.
Ingredients:
1 cup frozen pineapple
half banana*optional, omit for lower sugar
1/2 tsp. turmeric powder or small pinky sized fresh root
1 tbsp. chia seeds
1 tbsp. shredded coconut (or coconut meat)
1 lime, peeled
1 cup water or coconut water
Instructions: Blend on high until smooth and enjoy!
Credits:
Get the latest news, reviews and features directly into your inbox.