7 Ways To Enjoy Chia Seeds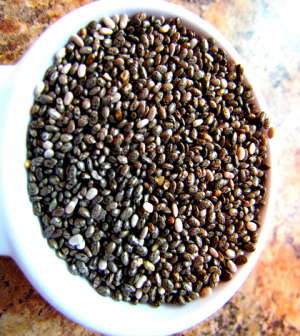 Great article from Strong and Beyond on 7 different ways to enjoy Chia Seeds.  Chia seeds have an abundance of nutrients and should be added if not already to everyone's diet.  If you haven't been eating them because you just didn't know what to do with them, you're troubles are over!  Check out the 7 different ways to enjoy this power packed food below.
Chia seeds are among the healthiest foods on the planet. They are loaded with nutrients that can have important benefits for your body and brain. Not only are they gluten/grain free naturally, but one tablespoon of Chia Seeds has more calcium than a glass of milk, more Omega-3s than Salmon, and more antioxidants than blueberries.
For weight loss, Chia seeds are an appetite suppressant, and Chia gel may be used to replace food within recipes. Bulking up a meal with Chia gel helps lessen the amount of food consumed, since Chia gel is primarily made up of water. Chia gel may also be used in place of fats within recipes, even within baked goods.
Raspberry-coconut chia pops:
Place 3 tablespoons of chia seed in a mason jar and pour over 12 ounces of coconut milk (from a can). Shake the jar until the chia seeds are fully immersed in the liquid. Add 1 tablespoon of coconut sugar and 3/4 cup of raspberries. Stir well. Let chia pudding set for 2 hours then pour into ice-pop molds and freeze overnight.
Raspberry lemonade chia drink:
Add the following to a pitcher: 2 cups of coconut water Juice 1/2 lemon 3/4 cup of blended raspberries 2 teaspoons of coconut sugar 3 tablespoons of chia seed Let it sit for 30 minutes until it has formed a gel-like consistency.
Lemon and mango chia parfait:
Place 3 tablespoons of ground white chia seed in a mason jar and pour over a can of coconut milk. Add a pinch of vanilla bean, 1 teaspoon of lemon zest and 3 tablespoons of maple syrup. Let it sit for 30 minutes or overnight until thick. Pour into serving glasses then top with freshly sliced mango.
Matcha chia smoothie:
Blend 12 ounces of almond milk with 1 teaspoon of matcha green tea powder, 2 pitted dates, 2 cardamon pods and a pinch of vanilla bean for 30 seconds. Pour into a large mason jar. Add 1 tablespoon of chia seed and shake it well. Let it sit for at least 15 minutes until chia seeds starts to swell. Serve over ice.
Raw cherry and chia bars:
In a food processor, add the following: 1 cup of raw pecans 1/2 cup of dried cherries 1/4 cup raw pumpkin seeds 2 tablespoons of chia seeds 1/3 cup of almond butter 2 tablespoons of maple syrup 1/4 cup of shredded coconut Grind until a paste is formed, about 2 minutes. Add mixture to a baking try and place in the refrigerator for 2 hours. Slice into bars.
Chocolate-chia mousse:
Pour 1 can of coconut cream into a blender, add 1/4 cup of chia seeds, 1/4 cup of maple syrup and 1/2 cup of cacao powder. Let it sit it blender for 10 minutes to allow chia seed to swell to 10 times their size. Once it has formed a tapioca consistency, puree it for 30 seconds or until smooth. Pour into serving cups and let it set for 4 hours. Top with fresh cherries.
Cacao, chia cherry ice-cream:
Add the following to a blender: 1/4 cup chia seeds 1.5 cans of coconut cream 2 tablespoons of cacao powder 3 tablespoons of maple syrup 1 tsp vanilla extract 1 ounce melted unsweetened chocolate 4 pitted dates Let it sit for 15 minutes then blend for 60 seconds or until smooth. The mixture should be thick and creamy. Transfer the mixture to an ice cream maker and churn according to the manufacturers instructions. Freeze until firm enough to scoop.
Credit:
Get the latest news, reviews and features directly into your inbox.