Small Changes for Better Health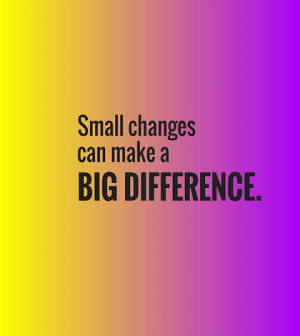 Small Changes for Better Health
Making changes for a healthier life can be daunting, and pretty overwhelming too. If you are determined to start changing your health, it doesn't mean that you have to completely overhaul your life all at once. Instead, you can start changing your life one small step at a time, making the entire process easier and less traumatic. The following are some of the best small changes you can make that have a major impact on being healthier.
Take a Few More Steps
One of the hardest things for people to change is adding all that extra time at the gym each week. If you just can't fit in the gym membership, or you just aren't ready to put yourself on display like that, there are other options. One great way to start adding exercise to your day is by using those breaks wisely. When you step away from your desk, use that time to take a brisk walk around your office building , around the block or even to your favorite lunch spot . If you're like most and get two breaks per day, you'll be adding 30 minutes of brisk walking to your day – without having to pay anything, or rearrange your schedule.
Rearrange Your Refrigerator
This might seem strange, but when you place your fruits and vegetables in your fridge so that they are the first things you see, you are more likely to choose them as your snack. The bright colors of fruits and veggies attract the eye, so make sure you store them in containers you can see through to make sure your mind latches onto them, rather than looking for something else.
Find an App or a Coach
There really is an app for everything, including nifty little programs that can help you with weight loss. If you want to add more exercise, look for a pedometer app that will help you keep track of how many steps you take. This will help you see whether you are coming close to the recommended 10,000 steps each day that promotes better health.
A coach is also an excellent way to get a handle on your health. The right coach can help you come up with numerous small changes you can make each day that will lead you to becoming much healthier. As coaches work closely with you, they will be able to point out even more areas that will get you on the right track for better health.
Hydrate Yourself
If you are a die-hard coffee drinker, or if you just have to have that tea, start replacing at least one or two of those beverages with water each day. If you can't stand the taste of water, there are hundreds of different flavorings you can add to make it taste better. Continue increasing the number of times you substitute water in your day, and you will feel much healthier.
Making lifestyle changes doesn't have to be overwhelming, and you don't have to make major changes all at once. Concentrating on making small changes each day will help you slowly switch out bad habits for good ones. When you do this, you will be amazed at how easily and quickly you start seeing a difference in your health.
Get the latest news, reviews and features directly into your inbox.