Making Sense of Food Cravings



Hello Vida Juicers, and welcome to another exciting episode of Wellness Wednesday!
Today we will discuss making sense of food cravings. Have you ever wanted chocolate so much that you didn't catch a single word during that meeting just salivating over the thought of it? Or have you craved a bag of chips while watching TV so bad that you actually left the house at 10:00 at night to buy some? Food cravings can seem strong enough at times to pick you up and carry you straight to the refrigerator or convenience store against your better judgment. For many women, cravings are especially intense in the week or so before menstruation. But many men, older women, teens and children can have strong cravings too. Let's look at the force behind this.
A great many people on the Standard American Diet or SAD in more ways than one, how appropriate an acronym, suffer from a mild malnutrition from eating only depleted, processed foods and not enough whole, nutrient-rich foods. As a result, we end up craving the vitamins, minerals and other nutrients that we lack. While cravings can also mean other things including psychological reasons, a strong craving usually indicates your body is deficient. The foods you crave may NOT contain that nutrient deficiency and often the person eats unhealthy empty calories in place of nutrient dense wholefoods.
Yet, cravings are not the same as hunger. In fact very different because hunger is controlled by the stomach, but cravings are controlled by the brain. Hunger is all about your survival, whereas cravings are all about your body communicating with you. For example, the next time you have a craving; let's say for something sweet, you can ask yourself…"Is it just sugar I'm craving? Or is it something more specific…perhaps chocolate?" If it's chocolate, your body is trying to communicate to you that you may be deficient in magnesium. Now you can find and eat all foods that have a high content of magnesium and slowly add them to your diet, which then gets rid of your sweet cravings.
Having some knowledge about what our cravings can mean, may help us to reduce unhealthy habits and poor food choices and really get to the source of the craving; because the danger with unhealthy food cravings is it can stimulate binge eating in some individuals, I know I've been there! This can be a serious health concern, as it will contribute to obesity and poor health.
I will give you a few examples of what your food cravings mean. When you're craving chocolate, what you need is magnesium, so what you need to eat instead are nuts, seeds, veggies, and fruits. When craving bread, pasta, or other carbs you need nitrogen, so what you eat instead is high protein foods. And when you're craving fatty/oily foods, you need calcium, so what you eat instead is organic milk or almond milk and green leafy veggies. Below is a detailed chart with several food cravings and basic guidelines as to what your body may actually need. Review it carefully, give us a thumb up and share this video with others. Thank you for spending time with me today and remember juice strong to live long!
Yours in juicing,
Doreen Correia
What your cravings mean: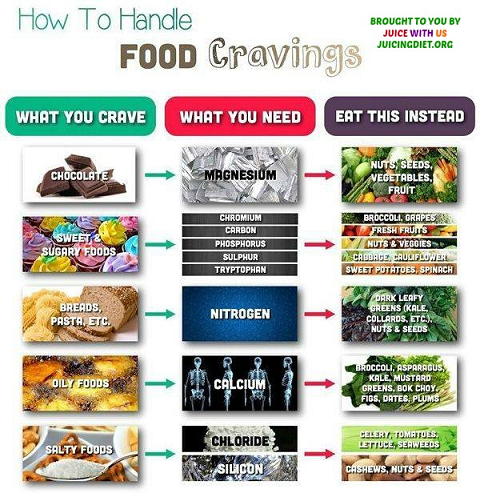 Get the latest news, reviews and features directly into your inbox.