Immune Boosting Smoothie: Orange Sweet Potato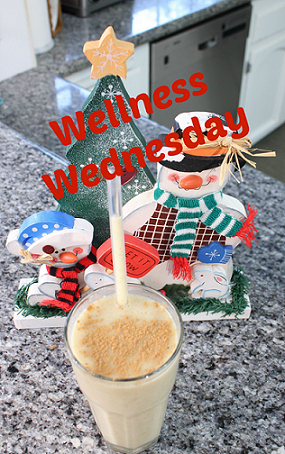 Immune Boosting Smoothie Orange Sweet Potato
It might come as a surprise to many of you that I don't only juice. Yes, some days my body thrives on consuming more plants in a variety of ways, like eating and blending. The way I see it, smoothies are a great way to power up on plants and get some foods you can't juice into your diet – nuts, superfoods, bananas, and yes, even chocolate (cocoa)!
But nonetheless, here on this week's Wellness Wednesday we are smack dab in the middle of the holiday season and I'm feeling kind of cozy wearing my "almost ugly sweater and shirt."
Though I normally crave warmer things in colder months, this smoothie makes a shining exception with its rich orange hue, creamy texture and warm, spicy notes. I think I've learned to love sweet potato in a whole new way. Here are some of the beneficial main ingredients:
I absolutely adore sweet potatoes. You really can't go wrong with their exceptional nutritional content, boasting plenty of beta-carotene and both Vitamin A and C (great for immunity). Not to mention, one potato provides roughly 4 grams protein, 6 grams of fiber, and just 162 calories.
Americans' favorite fresh fruit the banana is available year round, high in potassium and pectin, a form of fiber. They can also be a good way to get magnesium and vitamins C and B6. In addition, bananas are high in antioxidants,
This smoothie also contains cinnamon, ginger and turmeric, all of which act as anti-inflammatory agents in the body, among many other benefits.
This combination also adds a warm, spicy undertone that complements the sweetness of the sweet potato perfectly.
We already know the benefits of the super foods flaxseed or chia seeds from a previous Wellness Wednesday.
Last, but not least, fresh-juiced oranges add plenty of Vitamin C and extra immune-boosting benefits to help ward off any stubborn colds this winter.
This smoothie is perfect for days when you want something healthy, filling and a little sweet. Plus, it's simple with less than 10 ingredients. That's my kind of breakfast.
Ingredients
• 1 baked sweet potato (skin removed)
• 1 medium ripe banana, previously frozen
• 1/4 tsp. each ground turmeric, cinnamon, and ginger (if using fresh ginger, use 1 tsp. chopped)
• 1/2 Tbsp. flaxseed meal or chia seeds
• 3/4 cup unsweetened almond milk
• 1/4 cup fresh juiced oranges
• Large handful ice
• Optional: maple syrup for sweetness
Instructions
1. To bake your sweet potato, preheat oven to 400 degrees F and split in half lengthwise. Lightly oil and place face down on a foil-lined baking sheet. Bake until soft – 25-30 minutes. Let cool before adding to blender.
2. Add all ingredients to a blender and blend until smooth, scraping down sides as needed.
3. Taste and adjust seasonings/sweetness to your taste. Add more banana, orange juice, or maple syrup for added sweetness and more ice to thicken.
4. Pour and garnish with extra cinnamon.
Give this video a big thumb up and share with your friends. Merry Christmas and Happy New Year to all of you and remember juice strong to live long!
Get the latest news, reviews and features directly into your inbox.