Healthy Traveling Snacks Made Easy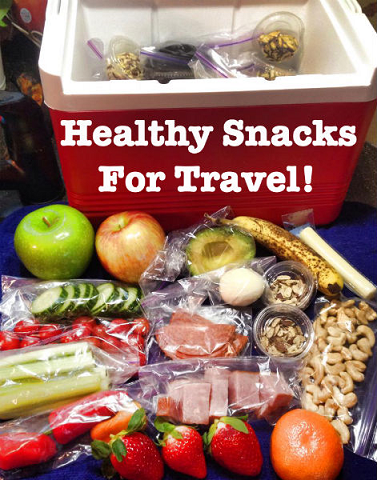 Traveling can be exciting and a lot of fun.  Some people love traveling and enjoy the experience of exploring a new city or country.  What can be tough some times is eating healthy while traveling.  It's so easy to just pull up to your nearest convenience store and grab some super unhealthy snacks or worse yet go through a fast food's drive through.  Unfortunately, we have all fallen victim to these procedures while traveling or on the road.  Eat Your Beets has some great "Healthy Traveling Snacks Made Easy", so you can continue to live and eat healthy while traveling.  Take a look at the article below or to see the full version click here.
Healthy Traveling Snacks Made Easy
1. Pack Your Own Produce
It has to be said that the apple is my all time favorite go-to snack.  It's sturdy, comes in it's own wrapper & if you're like my oldest son, you can eat the whole thing, minus the stem!  When thinking of easy, packable snacks, don't stop at the apple.  There are tons of fruits & veggies that don't need immediate refrigeration & are great for traveling.  Try taking these guys along for your next adventure & be sure to wash any produce before you leave!
Apples
Clementines
Grapes
Blueberries
Bananas
Avocados
Cherry Tomatoes
Baby Carrots
Celery
Baby Cucumbers
Sugar Snap Peas
Sliced Sweet Bell Peppers
2. Pack Your Own Snackies
If your kids are like mine, then they're all – Thanks, mom, for the fruits & veg, but we wanted SNACKS!  I get it.  I like salty, sweet & crunchy things too but perusing the aisle at a gas station will yield some pretty dismal results.  You can either end up buying some pretty shady 'food' items you planned to avoid or leave the store empty handed, hungry & grumpy.  No one likes a grumpy traveling companion so work on buying some of these pre packaged snacks & make sure you're reading your ingredients so you'll know exactly what you're getting.
Make Your Own 'Gorp'.  This is what we call Trail Mix.  Head to the bulk items section of your store & stock up on dry roasted nuts, dried (unsweetened) fruit like goji berries or raisins, pumpkin seeds, unsweetened coconut shreds & dairy & soy free chocolate chips.  Mix all your ingredients together in an air tight container & you've got a prefect road snack.
Blue Corn Tortilla Chips
Ginger Snaps.  These are some of my favorite sweet snacks & great for little fingers.
Kale Chips.  These definitely have an acquired taste, but now that I've had them, I'll be packing them for all our road trips.  My 2 year old will eat them, but we are the only ones!
Nut Butter.  I love Justin's nut butter & love these little single serving pouches!
3. Don't Forget Your Water Bottle!
So the water bottle isn't the only thing you should bring as far as portable containers but it's probably the best!  Hydration makes sure you don't have some of the usual traveling woes, like a sluggish tummy or over eating junk foods, plus it can save you money. When we pull in to stock up on fuel, if our water bottles are empty I usually only buy one or two gigantic water bottles & then fill ours from those.  This also stops the kids from harassing me for sugary drinks.  Some places may even let you use ice & water from their soda fountain, which would be even better bc you aren't wasting a plastic water bottle.  Along with your water bottle, don't forget to take some extra things to make your life easier.
4. Get Off the Beaten Path
Now, this might come as a shock but fast food is not one of my favorite things to eat.  I'm not saying we never eat it, I'm just saying if given a choice I'd prefer almost anything else.  When we're out on the open road & our choices seem limited to fast food chains or truck stops, I like to use apps like Yelp or Urban Spoon on my iPhone.  You can search by location or food type & read reviews.  I LOVE REVIEWS.  We've eaten at some seriously amazing local places we would've never found if we'd stayed on the highway.  Not only are you more likely to get food that is fresh, but you're also supporting a local establishment & what I like to call – blending with the locals.  We've eaten at small town restaurants, been welcomed by owners, had fresh 'house specials' & had our kids carried around by wait staff.  Try getting that at some fast food chain.
5. Picnic in Paradise
Ok, I have to admit, thinking of this title made me giggle.  It isn't exactly paradise to pull into a rest stop area but when you're in the car with 4 antsy kids, it can be the closest thing to it.  You need the rest stop to accomplish three things – feed the kids, bathroom/diaper changes & get them out of the car.  If you've packed enough food for your small army then you don't need a highway fast food chain.  Make a date with nature (weather permitting) & bring a blanket to picnic at the rest stop area.  The kids can nosh on all the snacks you packed & run out some of that energy.  Some rest stops have nice, grassy areas where the kids can run around, safely distanced from any cars. Then all you'll be ready to jump back in the car & watch Caillou for the thirteenth time.
6. Dehydrate Everything!
I am a HUGE fan of my Nesco dehydrator! I can make dried fruits, Mixed Berry & Beet fruit leather, beef jerky & dried veggie chips! Not only are these snacks perfectly packable but they are always the favorite of all my kids!
Eat Your Beets writes sensational articles on living healthy life.  Feel free to check out more healthy goodness from them.
Photo Credits: http://poorpaleo.com/healthy_snacks_for_traveling/
Get the latest news, reviews and features directly into your inbox.