Recipe: Homemade Fruit Slushies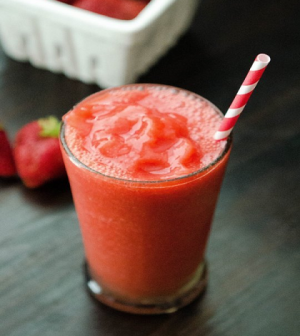 With summer around the corner it's important to stay hydrated and cool down with a nice beverage from time to time.   I'm definitely not talking about beers or cocktails here.  It you're looking for something that taste good and is both hydrating and healthy for you Thank Your Body created some great homemade fruit slushies.  These slushie recipes use all organic fruits and some extra ingredients we really like. We've got the entire article below, but click here for more info on these amazing fruit slushies.
Recipe: Homemade Fruit Slushies
In the mood for something cool and refreshing? Homemade fruit slushies are a great way to cool down on a hot afternoon. When you make them at home, you can be certain that your fruit slush will be full of wholesome, organic fruit and sweetened (if you choose to) with something healthy instead of high fructose corn syrup or aspartame. The abundance of fresh, sun-ripe fruit this time of year makes it easy to think up great combinations like Watermelon Mint, Mango Berry, and Blueberry Lime.
There are many ways you can make a slushie at home, and you don't have to have anything fancy to do it. On the other hand, there are some really fun and inexpensive gadgets out there that make the process easy enough for a four year old to make their own slushie (think afternoon boredom-buster on a hot day). I was given a slush and shake maker for my birthday this year, and I love it because it doesn't take up much space in my cup\board or freezer, and I can take it outside on the deck while it freezes because it doesn't need to be plugged in to work. You just pop the liner in the freezer, and take it out when you're craving something sweet and cold. Minutes away from a healthy, refreshing treat any time of day!
If you're using a blender, you can get pretty much the same results. You'll have to add some ice, however, which does water your fruit down a bit. Or, you can just use frozen fruit and avoid the ice problem! To get your slushie started, just wash, stem, and pit your fruit. Puree the fruit with a bit of liquid and some sweetener if you'd like. I like honey as a sweetener, if you're using fruit that needs it. Blend the fruit until it's nearly liquid, and then pour it into your slushie maker (or, add ice and blend again until it's thickened). To make a slushie with the slush and shake maker, just pour the liquid into the frozen core and then wait a bit as the fruit starts to freeze around the edges. Use the plastic spoon that comes with the slush maker to scrape the sides as they freeze, continuing to scrape and stir until your slushie is thick and frozen.
Want some ideas for fruit combinations? Try Watermelon Mint, watermelon pureed with a sprig or two of fresh mint. Or Mango Berry, using mango nectar and fresh or frozen strawberries, raspberries and blueberries. Blueberry lime is basically limeade made with fresh lime juice, water and honey, and pureed with some fresh or frozen blueberries. These ideas will get you started, but the possibilities are endless! What about carrot and apple juice, or blending whole kiwi fruit with lime, Greek yougurt and honey? Green smoothies are great when turned into an ice-cold frozen slushie. I love the simplicity of fruit slushies, and the fact that they're such a fun and healthy snack.
Homemade Fruit Slushies
Make homemade fruit slushies with organic fresh fruit! Recipes for Mango Berry, Watermelon Mint, and Blueberry Lime. Simple, healthy, and so refreshing!Ingredients:
For Mango Berry
16 ounces organic mango nectar
1/3 cup fresh or frozen organic blueberries
1/3 cup fresh or frozen organic strawberries
1/3 cup fresh or frozen raspberries
2 Tabespoons fresh organic lemon juice
1 Tablespoon organic raw honey (optional)
For Watermelon Mint
4 cups organic fresh watermelon, cubed
2 sprigs fresh mint
1 Tablespoon organic raw honey (optional
For Blueberry Lime
2 cups water
3 fresh organic limes, juiced (about 1/4-1/3 cup lime juice)
3 Tablespoons organic raw honey (or to taste)
1 cup organic blueberries, fresh or frozen
Directions:
1. Wash, pit, and stem the fruit. Juice lemons or limes if using.
2. In a blender, puree the fruit and other ingredients well.
3. If using a slush maker, pour the juice into the frozen core and scrape the sides as it freezes (follow the directions for your slush maker). If using a blender, add ice cubes 2 at a time until the liquid is thickened and frosty.
4. Pour into glasses and serve right away!
Each recipe makes 2 large fruit slushies.
Credits:
Get the latest news, reviews and features directly into your inbox.