The Hurom Juicer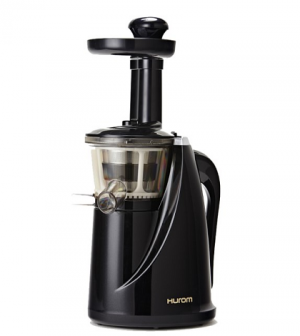 A Review of the Hurom Juicer
If you have decided to start juicing, then, of course, the first thing you need to do is purchase a juicer. And, it pays off to look around and choose one that will best suit your needs. If you just purchase the first one you find, you may be sorely disappointed. So, let's take a look at the Hurom juicer as one of your options.
Slow Juicer Method
To begin with, keep in mind that the Hurom juicer is a slow juicer. Other names for this type include masticating or cold press juicers. It doesn't mean they are necessarily slow. They are relatively new to the world of juicing, however. They have a single gear that is connected to a bladed auger, which pushes and crunches the ingredients until they are a pulp, allowing the juice to be released. This is considered a very effective method of juicing.
Do not be fooled by the name, though. The Hurom juicer operates at 80 RPM and uses about 150 watts of energy. Now, this sounds much slower than the traditional centrifugal juicer, but you are getting more juice from each fruit or vegetable, which is a benefit.
10
The Pros
Of course, in order to determine if you would like to choose the Hurom juicer, you need to know both the pros and the cons. Let's look at the pros of this model first.
• It is small. That means it hardly takes up much room on the counter, and that can be very helpful if you live in a small space.
• It is quiet. In fact, it is much quieter than many other juicers that you could consider.
• It is energy efficient. It just doesn't use the same amount of energy as centrifugal juicers.
• It is versatile. You can juice soft and hard fruits, stringy vegetables, hard vegetables, nuts, wheat grass, and virtually anything else.
• It uses the pulp best. The resulting pulp from the Hurom juicer will be very dry. That means you get every drop of juice from it and you will have very little pulp in your juices as well.
• It is easy to clean. Essentially, you can do a quick cleanup of the juicer by just running water through it. Washing the whole thing just takes minutes too.
The Cons
We do need to consider the cons too. They include the following:
• You will need to cut up fruits and vegetables before loading them.
• The Hurom juicer does occasionally get jammed.
• It is quite expensive. You can expect to pay around $300 for the juicer if you choose this model.
As you can see, there are many benefits to the Hurom juicer, but there are cons as well. You will have to weigh these things against each other to determine what matters to you the most. If the cons don't outweigh the pros that matter the most to you, then this could be a quality juicer that you will find yourself using time and again so that you can live a healthier life.
Get the latest news, reviews and features directly into your inbox.