The Benefits of Acai Berry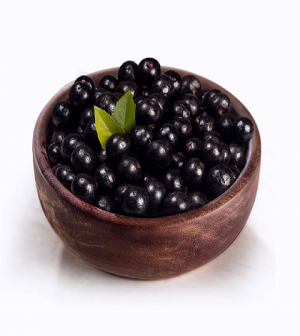 The Benefits of Acai Berry
Whether you follow Dr. Oz, or you just happen to frequent some of the major health and wellness sites, you have probably heard of acai berries. While they are often seen in relation to some recent fad diets and cleanses, there is much more to this little berry. Fads aside, there are many benefits to adding the healthy berry to your diet, whether whole, or as a part of your juicing. Keep reading to find out some of the health benefits that the acai berry may provide.
Health Benefits
The acai berry is found in the Amazon forests, and has actually been used for centuries for its energizing and immunity boosting properties. These berries are packed with antioxidants, which is why they are so beneficial to your health. Adding acai to your diet provides a wealth of benefits, including:
Detoxification – Acai helps with cleansing the body thanks to antioxidants and its dietary fiber content.
Heart Health – Acai berries contain anthocyanins, which have been found to lower the levels of bad cholesterol in the blood. There are also plant sterols which have been found to help with relaxing the blood vessels, boosting circulation, and helping to prevent the formation of blood clots.
Weight Management – Some studies have shown that including acai berry in a healthy diet can help with managing weight. There is even evidence that the berries can help to lessen some of the effects of a high fat diet.
Healthy Skin – Acai berries are becoming a popular ingredient in a wide range of beauty products due to its high antioxidant content. While it does provide skin benefits when applied topically, adding the berries to your diet has been shown to provide that radiant, healthy glow from the inside out.
Immune Boost – Acai berries are high in antioxidants and vitamin C, which gives your immune system a boost. By fighting the free radicals in your system, the berry helps you fight off illnesses much easier.
Cancer Fighter – The polyphenols in the acai berry have been studied for their ability to help with cancer prevention. Some studies have shown that these compounds not only help slow the growth of cancer cells, they may also prevent tumors from growing. More study is needed to determine the true effectiveness, but these are promising results.
More Energy – All of the healthy nutrients in acai berries have been shown to provide an energy boost that helps with fatigue. Additionally, the increase in circulation also helps transport more oxygen to the muscles, which is an added benefit for those who include exercise as part of healthy weight loss.
Anti-Aging – The amount of antioxidants in the berries have also shown to help prevent oxidative damage, which helps to slow the signs of aging.
Acai berries may be known for their place in the fad world, but these berries actually provide a wealth of health benefits. If you want to make sure you are giving your body all the nutrient tools and antioxidants it needs for maximum health, make sure you add this juicy little berry to your diet.
Get the latest news, reviews and features directly into your inbox.