Dairy Free Frothy Coconut Coffee Creamer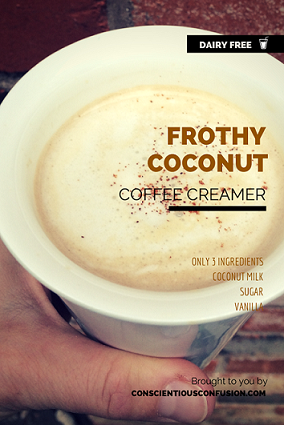 Coffee and tea are favorites of many people early in the morning and throughout the day.  Bottom line is people go crazy for their java.  Coffee and tea both have their positive attributes and are healthy for our bodies, however what we mix in our coffee and tea may at times be a problem.  It's a known fact that sugar is not healthy and that we need to stay away from it at all times.  Dairy on the other hand is up for debate and is very controversial.  Some experts say it's great for our bones and others say high calcium intake may lead to cancer.  The debate is on!  If you aren't a fan of dairy we have a great recipe for a dairy free frothy coconut coffee creamer.  You can find the creator of this recipe Living Conciously here  and the recipe and full article are below.
I love a creamy cup of coffee. Who am I kidding, I love coffee regardless of what is in it! But my favorite is when the coffee turns a light brown color and has some nice froth on top. Since I rarely spend money on coffee outside my home, I don't get froth very often. And since I've made an effort to cut back on dairy, I had even been skipping the creamer regularly.
Then one of my green blogger friends recommended full-fat coconut milk. You know, the kind that you buy in a can for cooking Thai food. I tried that for a while but it was thin & watery compared to half and half.
You might have seen the idea going around Pinterest where a can of coconut milk is refrigerated and beaten until fluffy. My creamer idea is built from that, with two added ingredients. I've been totally addicted to this dairy free coconut creamer lately!
Dairy Free Frothy Coconut Coffee Creamer
1 can full fat coconut milk (buy here – affiliate link)
1/4 cup organic raw sugar (buy here – affiliate link)
1 teaspoon vanilla extract
1. Put the can of coconut milk in the refrigerator for 3 hours or overnight.
UPDATE: Upon removal from fridge, I have lately started trying to drain as much of the separated liquid as possible from the solid. Sometimes it works, sometimes it doesn't. Some brands separate better than others. If you can find a brand without guar, those work best. I usually can't, so I use the brand linked to above and it typically separates somewhat.
2. Whip the coconut milk with a hand or stand blender until it is light and fluffy.
3. Add the sugar and vanilla extract and beat until incorporated (do not over-whip).
4. Store in tightly closed container, such as a reused glass jar, in the refrigerator. It will keep for 7-10 days.
I drop mine but the spoonful into the cup before pouring coffee, and often add even more after the mug is filled! It's especially yummy with a sprinkle of cinnamon.
Get the latest news, reviews and features directly into your inbox.