The Best Anti Aging Foods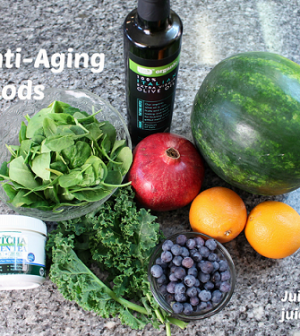 The Best Anti Aging Foods
Hello Vida Juicers and welcome to Wellness Wednesday. I'm grateful to have you here in my kitchen. Most fruits and vegetables help, but today we'll be talking about some of the best anti-aging foods for our skin.
Eat right, look younger — it's as simple as that. Beauty nutritionist, Paula Simpson says, "Cellular renewal takes place within deeper dermal layers, having many experts believe a nutritional approach will provide the best results for healthy skin aging." Here are some excellent anti-aging foods that may help to erase wrinkles and help you look younger. Incorporate, at least one of them each day or per below, in your juices, smoothies, salads or recipes and provide your skin the antioxidant goodness it craves. Vitamins A, C, E, beta-carotene and lycopene are just to name a few, and are all essential in helping our bodies fight those damaging free radicals and reverse the visible signs of aging. Use those in season, available (I'm blessed with availability because I live in Southern Cali), or even frozen without added sugar.

Best for Softening Skin: Pomegranates
Why they work: This fruit is packed with vitamin C, which helps guard against the wrinkling effects of sun damage. Plus, says Dr. Debra Jaliman, an assistant professor of dermatology at Mt. Sinai School of Medicine, the juice in pomegranate seeds contains a polyphenol compound that fights damage from free radicals and a super nutrient that may increase your body's capacity to preserve collagen, the subdermal connective tissue that makes skin look smooth and plump.
Serve yourself: A cup of pomegranate seeds — not just juice — every week, suggests nutritionist Jackie Newgent.
Best for Smoothing Fine Lines: Blueberries
Why they work: These delicious little blue wonders contain more antioxidants than almost any other food does. Translation: They can give your skin extra protection against the skin-damaging free radicals that result from sun exposure, emotional stress, and even over exercising (especially running).
Serve yourself: One-half cup every day will help to prevent the cell-structure damage that can lead to loss of firmness, fine lines, and wrinkles.
Best for Firming: Kale and Spinach
Why they work: These vital veggies contain special phytonutrients, or antioxidant compounds, that help guard against damage caused by the sun. Spinach is loaded with beta-carotene and lutein, two nutrients that have been shown to improve skin elasticity, according to a study in the Journal of Agricultural Food Chemistry.
Serve yourself: Every week, aim for three cups of either kale or spinach, or a combination of both.

Best for Diminishing Brown Spots: Green Tea
Why it works: This healthy brew, says Dr. Jaliman, contains catechins (one of the most effective compounds for preventing sun damage like hyperpigmentation) and polyphenols (antioxidants that combat free-radical damage and may reverse the effects of aging).

Serve yourself: At least one cup a day to see results in as little as a month.

Best for a Dewy Complexion: Watermelon
Why it works: This refreshing, sweet treat contains the ultimate antioxidant, vitamin C, plus lycopene and potassium, which regulates the balance of water and nutrients in cells.
Serve yourself: At least one to two cups a week.

Best for a Healthy Glow: Olive Oil
Why it works: The "good fats" in olive oil are highly beneficial; they contain heart-healthy omega-3s, which improve circulation, leaving skin rosy and supple.

Serve yourself: A tablespoon a day includes use in cooking too.

Best for Skin-Firming Collagen: Oranges
Why they work: The oh-so-humble orange, with as many as 170 phytochemicals and antioxidants, making them one of the healthiest anti-aging foods!

Oranges are also loaded with hesperetin and naringenin – two mighty flavonoids that can help fight free radicals that cause healthy skin-cells to degenerate over time. What's more, if you've ever been in the market for collagen injections, you might also like to know that oranges are crammed with skin-firming collagen!

Serve yourself: One medium per day.
Keep a look out for some recipes I will post using these skin rejuvenators. Thank you for joining me today, if you find this video useful please give it a thumb up and share with your friends. Remember "Juice strong to live long!"
Source: fitnessmagazine.com
Get the latest news, reviews and features directly into your inbox.